As we traipsed over the land that was to become JaxTrax, I noticed that an area to the east seemed slightly mushier than everywhere else. Close examination of the grass showed a density of thin spiky grasses – kindling memories of Boy Scout hikes across Yorkshire Moors – and 5 minutes on Google Earth looking at a darker green patch than everywhere else confirmed my suspicions. We had some sort of a spring on our land!
Having been cow pasture for decades, everything was featureless and trampled, but the slope of the land gave inspiration – I'd build a pond.
Decision made, all I needed was to decide where best to site the feature, how big it was going to be, and where to find a man with a digger.
Being a logical sort, siting was easy. I waited till we'd had a few days of hard rain, and then went out in my wellies, garden fork in hand. Starting from about where I thought the wet area began, I worked gently up-hill until the ground started to get harder. Setting that as the up-hill limit, I then retreated 3 metres and marked the spot. Why? Well, I wanted the source to be well within the area I intended the pond to be.
Than it was a case of setting the size – which really depends upon how much space you've got; the soil type; the land topography and if you want to water-ski!!
At JaxTrax the land sloped gently at first, then more steeply. I therefore determined I'd dig a pond that went downhill to where the gradient steepened, across the land fall line for 25m and down to a depth of 2m at the deepest point. I also stipulated a gentle gradient into the pond from the uphill side.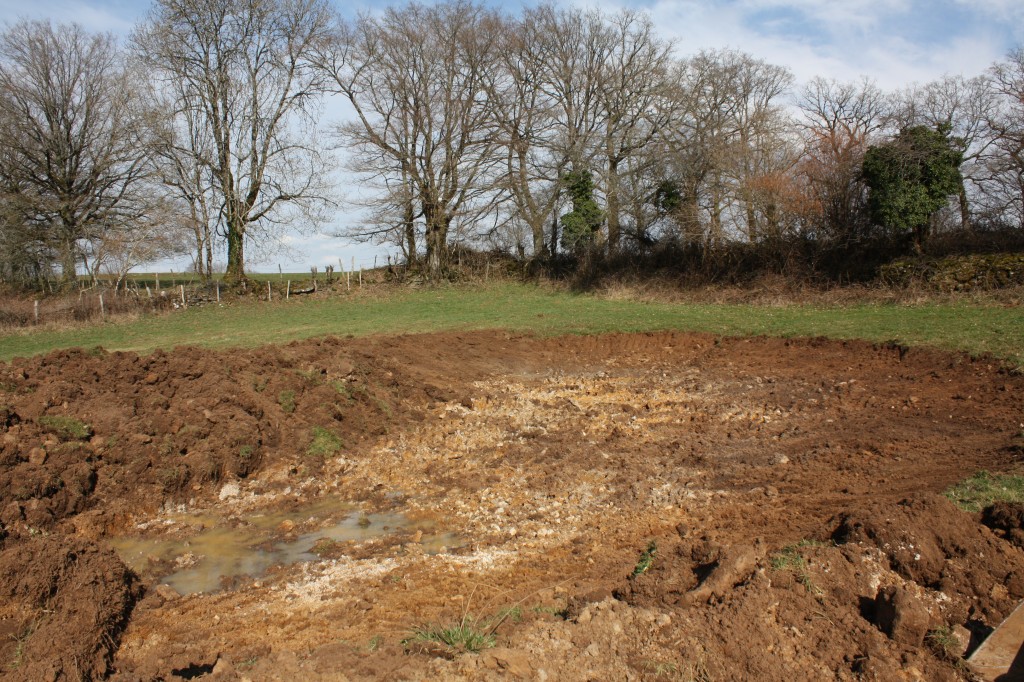 Digger arranged and in situ, away we went! Starting at where I'd set the uphill boundary I got the digger man to dig down – initially creating a gentle slope into the pond, then steeper and steeper. At JaxTrax the pond is around 25m in length x 10m across. Of that 10m, the entry slope goes for around 3m, then 1m of steep slope, leading into 6m of fairly uniform 2m depth. All spoil from these excavations was used to create a curved cofferdam where I wanted the downhill bank to be. Excavation continued until I had the depth and length of pond required and a 3m thick (top), 8m thick bottom) wall of earth, and rock forming the retaining walls.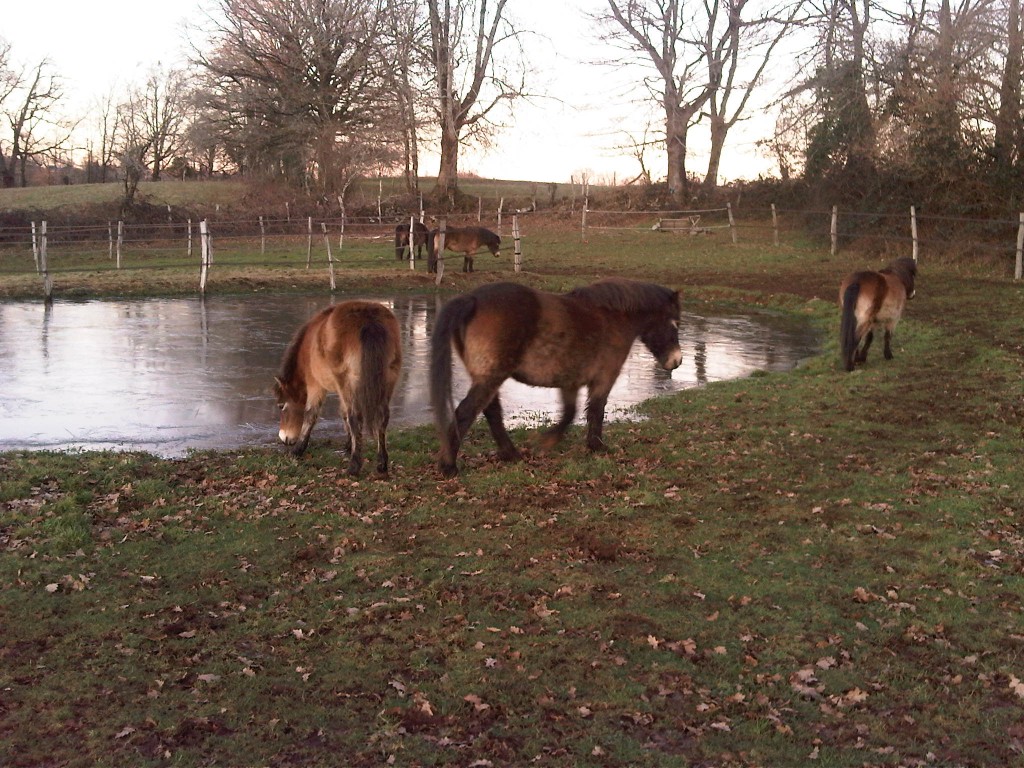 Then it was a case of wellies on – and get stamping! (In the days of canal building the navvies ran sheep through the clay lined canal trench – to 'puddle' the base and create a seal. I did my best with the wife, but whilst she displayed a working knowledge of navvie language, aid was not offered! A request to bring over the old cow, aka the M-in-Law, didn't go down well. Not recommended!!)
Hours of strangely therapeutic stomping later, I had a pretty good base – aided by quite a high percentage of clay in the soil.
Then it was a case of wait and see.
Overnight rain saw a puddle forming. More rain, more water. More rain, more water…..but evidence of leaks between the original terrain and the new coffer wall. Answer? Wellies. Stomping. The odd rock stamped into vulnerable looking spots. More stomping.
Slowly the leaks dried up and the pond continued filling…. Bliss.
Of course, it was necessary to go and check the pond at frequent intervals, and, in case of a sudden drought, to take a bottle of Rosé to ease the boredom.  However, in short order a 1.5m – 2m deep water feature was in regular use by ponies and horses alike.
But of course, it needn't (and didn't) end at that.
Visitors would undoubtedly want to see the pond, so what better than a bench and fire pit? Risk of rain – voila, a parasol! Dragonflies in need of shelter?  Lilly pads! Bats skimming the water whilst drinking? A camera and more Rosé! Badgers strolling past for a drink?  Gin and tonic! Mother in law visiting? – a short chain and anchor…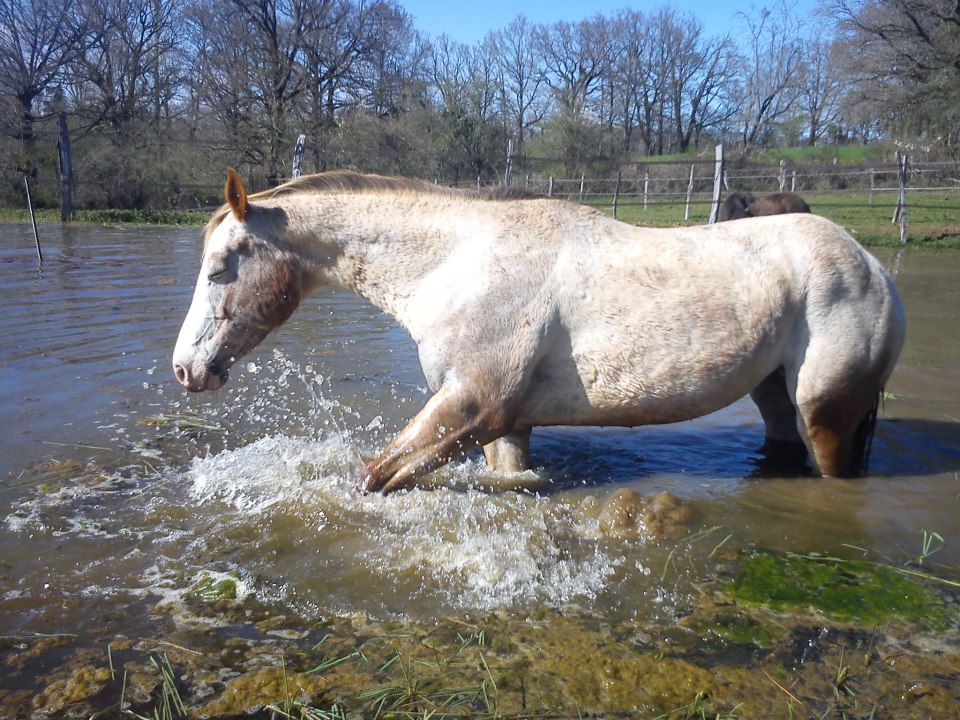 So, have some fun. Dream a little. Plan a little. Dig a little. Enjoy a lot!
(Note: If your terrain is sandy and not water retentive, don't despair. There are large sheet membranes available that are expressly manufactured for ponds where animals enter the water, complete with self-repairing capabilities. Alternatively, a budget option is to line the pond with old carpet (pile side up), create a waterproof barrier with a heavy-duty pond membrane or tarpaulin, then add another layer of old carpet, pile side down. Anchor well with rocks and cover with a layer of earth. Let the pond fill, and keep a close eye to ensure the top carpet layer saturates and sinks. This will go a long way to protect the tarpaulin from hooves and the like. If this is your scenario, you might move the pond site a little further down hill, to allow drainage over the upper edge. You might also find that extra quantities of Rosé is an aid to decision making!)