The snow fell only once this winter 2012. The two weeks that followed have been the harshest since 1985, with temperatures ranging between -4°c to -19°c. The ponies have been preparing themselves since the searing heat of August 2011, and therefore they have coped remarkably well. How wise they are with their thermal undercoat for insulation and their long thick greasy overcoats. They are truly well adapted for the weather in this mountainous region of the Auvergne. The "hair streams" resembling a well used wax jacket play a very important part in diverting the wet away from their bodies and protecting them from getting chilled. Their fanned tail too. And don't you just love their unique thick and floppy manes/forelocks that appear to become "one", as they lower their heads and eat to survive?
The natural thermoregulatory system of Exmoor's is highly efficient.The conditions that we are currently experiencing have seriously put it to the test.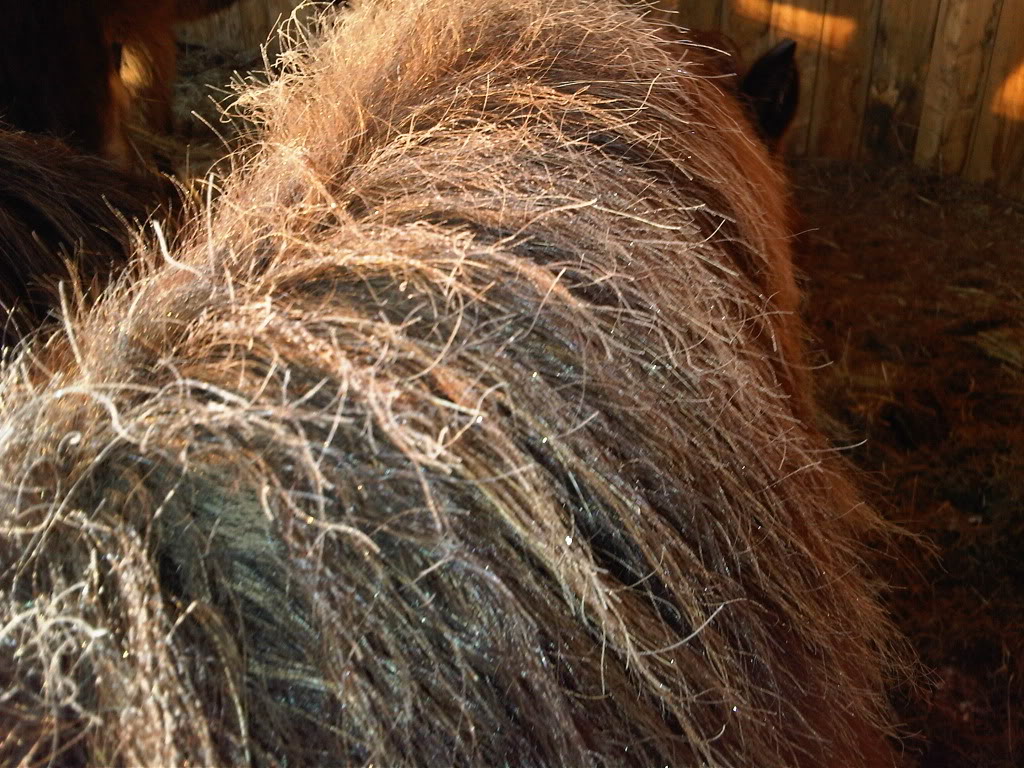 Following their lead, I too prepared myself for the elements. Dressing in my technical ski gear, a fleece hat with flaps to cover my ears and a buff over my mouth and nose. (not a pretty sight).
Unlike the ponies, I just can't get "the look"!
Waterproof fleece gloves have proved invaluable for removing the top layer of ice from the water. It starts to freeze  immediately the buckets are filled! Within the hour there is are a solid block of ice. I then have to remove it for the next fill. Our garden is full of bucket shaped ice blocks with no signs of a meltdown!
Thank goodness, in January, I had a  tap installed 2 feet underground and covered like a man hole. To the tap I attach a short hose and fill the buckets. Then I drain the water out of the hose pipe and hang it up. That way it doesn't freeze and block it for the next fill. There has been a constant flow of water outside, to date. The alternative doesn't bear thinking about!
I tried to stick to my normal routine. Armfuls of hay scattered on the "tracks" morning, noon and night. I soon realized in such conditions that not only did my ponies and horse need access to a lot more hay, but I too needed to conserve my energy and sanity! The local farmer kindly put  a big round bale in the middle of the field. A 1/3rd ton bale would normally last the 6 of them about ten days the way I feed it. This lasted them two days! Such a lot of waste though and not ideal as they stay in one spot eating for hours on end.
For treats my Exmoor's also get a cup full of pony nuts twice a day. (they can't understand why our Appaloosa gets her rations, and as yet I fail to explain it to them! – so I give in to their pleading little starving faces!) I add chopped apples, carrots and any other fruit and vegetables I can lay my hands on. They love cauliflower and broccoli stalks, and pears. Tonight I am trying pumpkin! Mineral licks and Himalayan rock salt are constantly available to them.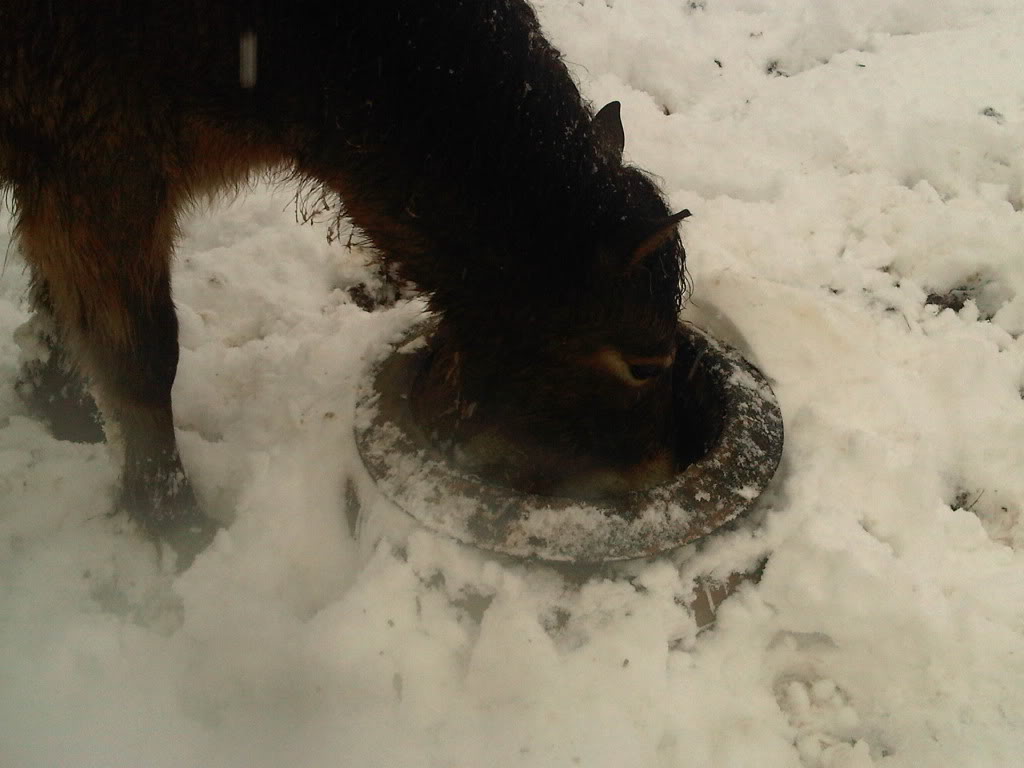 For feeding I stick to a routine. Being intelligent little horses they know exactly what time it is. "Dovetail" is particularly impatient and kicks the feed buckets if I am a little late. If I am early and have to call them, the race is on.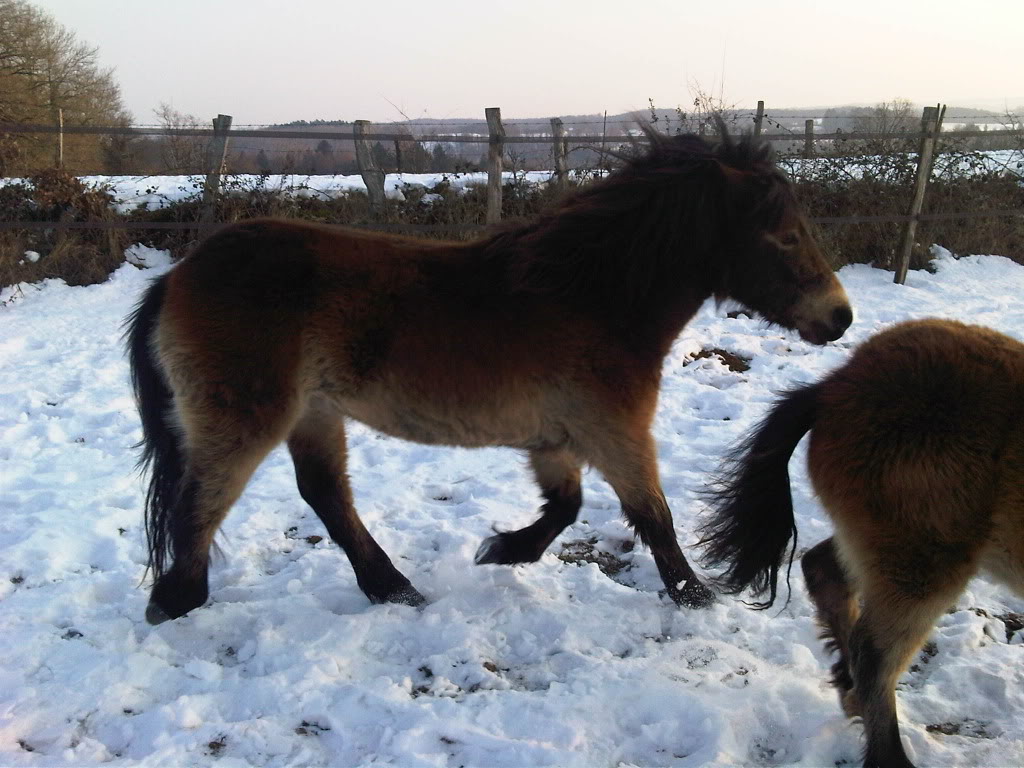 Today is milder ( 0°c at noon). Just when I was hoping spring was around the corner, the farmer informed me that snow is forecasted for tonight, then another big freeze to follow!
Unable to make progress with "handling" my ponies , I shall be making plans for the months to come. Inspired by Dawn Westcott and "Bear", I have ordered Vanessa Bee's "The Horse Agility Handbook! www.horseagilityclub.com .
I shall stay cosy indoors, sip a steaming mug of hot chocolate and read my new book. I am looking forward to challenging and fun times ahead with my five charismatic Exmoor's.
Article written for Equine Tourism www.equinetourismcommunity.co.uk