When I saw Caroline show "Oui Oui" (Noddy to us!) at our local Western Show she was about 6 years old (middle of photo). I knew then she had what it takes and admired the way she managed the headstrong little Shetland. She performed a "Halter" in hand class and won first prize (blue rosette in Western!) No sooner was she out of the arena, overcome with emotion, she burst into tears! Before anyone had a chance to ask her, she uttered in a choked little voice "je ne pleure pas pour moi, je pleure pour Oui Oui (I am not crying for me, I am crying for Noddy!) Out of the mouth of babes!
My first impressions proved me right, and we now spend Wednesday afternoons together with my Exmoors. This week we introduced three small objects to our agility course. A ball suspended from the arc, some "rattles" made from small milk bottles filled with pasta, (start of the scarey corner) and a rosette. Well if we plan to show, they are going to have to get used to bits of ribbon flapping about their faces, n'est – ce pas?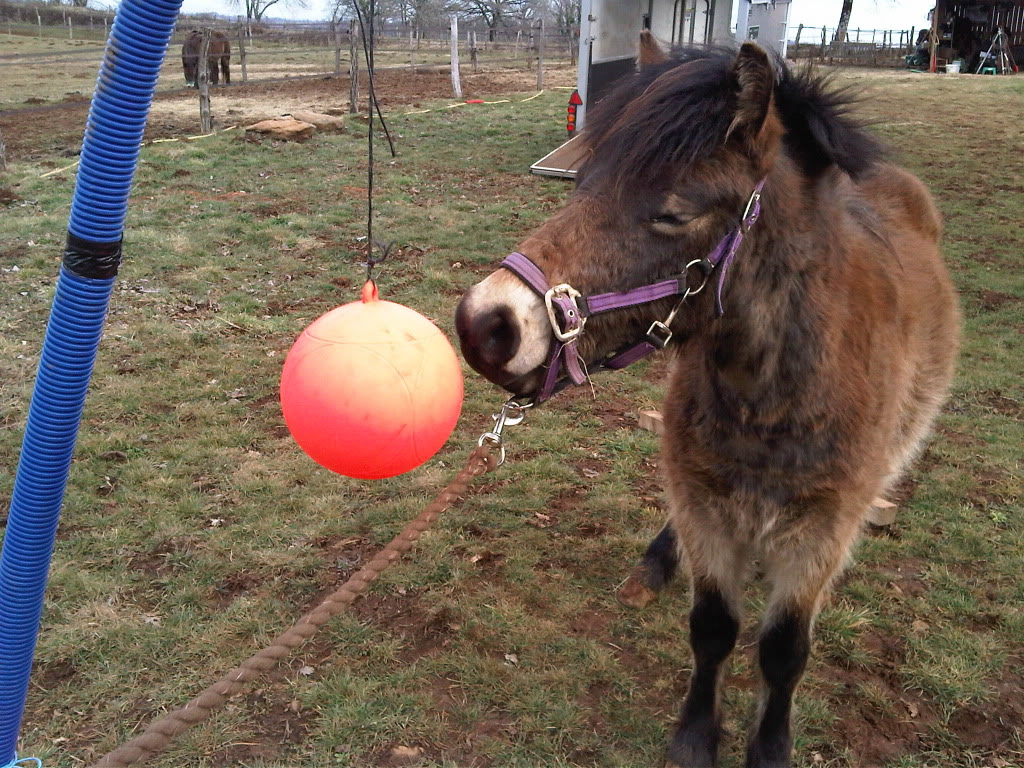 Before we started I held the clip end of the rope, and Caroline led me around the course as if  I were the horse – yes we had a good laugh for sure! I wanted to see if she had understood the click/ slight pressure once only on the rope, to encourage forward movement. Then immediate giving slack on the rope  – process to be repeated if the pony stayed still. So I began the course behaving well, then suddenly put the brakes on! She thought it was hysterical, but she did exactly what I had hoped. I had a good paw at the bridge then backed right off. She lead me alongside it and didn't attempt to force me. Satisfied that she had understood, we went back to get a pony.
I now have 3 Exmoor's that I can put the head collar on and they stand perfectly still. No treats! I still like to do this before Caroline arrives, because she takes a while to calm down and obviously always wants to be involved in everything. I don't want to undo all the good work, so I bring  them up before she arrives. I had Eiderdown (3 years old) Finch (yearling) and  Galaxie (weanling) ready for agility.
Who first then Caroline? I said and of course she replied "Finch"- no surprises there then.
She took Finch around the course once without introducing the new toys. They did very well and Finch even went half way down the bridge before stepping off. The second time we went together. I was careful to explain that she should position herself between the obstacle and the pony, because if he is scared he will shy away from the obstacle. If she was the other side of the pony he would shy into her and she could get hurt. Finch loved the rattles and I think I know why. They sounded just like pony nuts!! He wasn't too keen on the rosette, so she just held it up for him to examine and let it flap around a bit. He is not ready to win prizes just yet!
Finch was totally perplexed by the arc that now had a ball hanging from the middle. He had a good sniff at the arc to see if was the same one as before, but was not at all keen on the intruder! I moved it to one side, and I did walk him through, but he rushed it somewhat.
Heading back to get another pony, Caroline says "haven't you forgotton something, staring at the open trailer". She loves leading Finch up and down the ramp and it was an excellent note to finish on.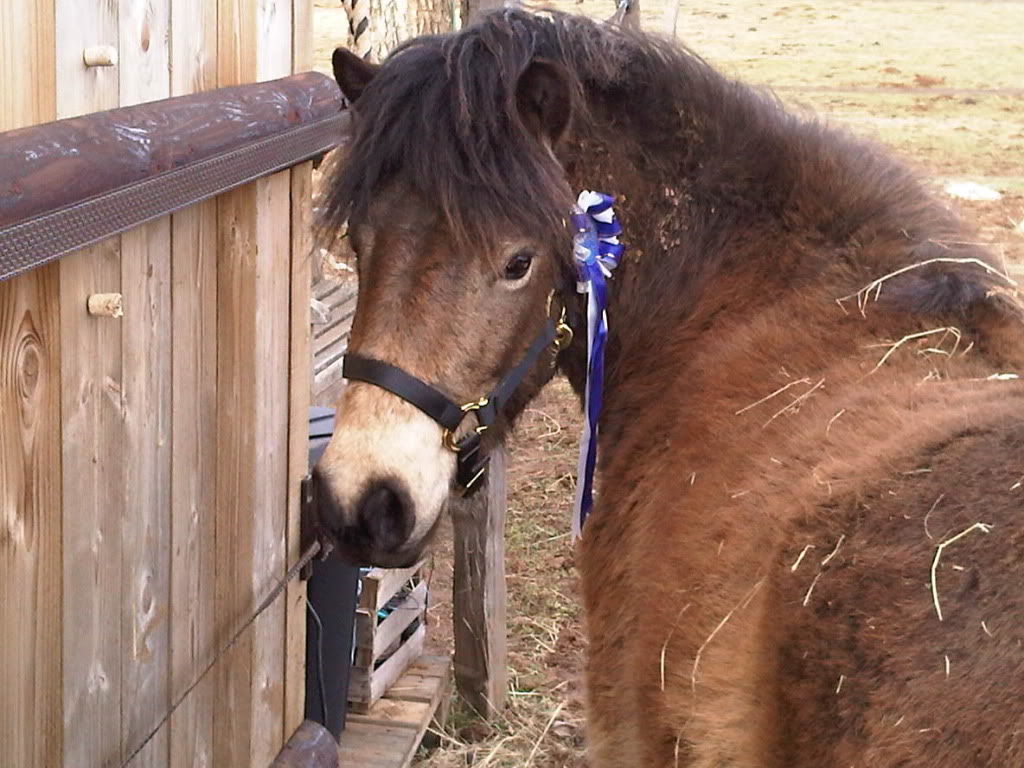 I suggested that I took Eiderdown and she took Galaxie and we showed them the course together. Caroline was up for that. I didn't want to put any pressure on the ponies who had only done it once before. You would have thought that Eiderdown had done it all her life! Ok, so she didn't walk the full length of the bridge, but it won't take long, I feel sure. The ball, still suspended  on one side of the middle, caused her no problem at all. She sailed through, hoping for rewards in the shape of carrots! As for the rosette, she must be a born winner.
We showed it to her once and then went to clip it on her head collar. She stood still, and the flapping ribbons didn't bother her one bit. Doesn't she look pretty, in spite of being covered in hay!?
I then stood back and let Caroline take Galaxie around the course. She asked me if she should show her the new objects. Introduce them gently and calmly, I said and see what her reaction is.  She did just that and I stood close by. Again the rattles were not scary because they sounded like "feed time". The rosette, she allowed Caroline to let the ribbons flap on her face, but we didn't clip it on this time. Caroline was brilliant at showing her the ball and it was hugely successful. The photo speaks for itself, and what a lovely way to end such a fun afternoon interacting with our Exmoors.